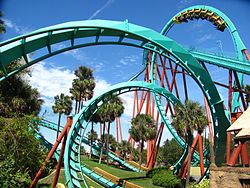 Is recent oil volatility unusual?
Are current oil levels below historical standards?
When I was a kid, I used to love roller coasters. I might be exaggerating, but I think my brothers and I rode Kumba in Bush Gardens, Florida 12 times straight. Below is the picture of this beast.
Fast forward, and a few weeks back I went to Hershey Park in Pennsylvania with own my family. My kids had a great time. I would highly recommend it if you have kids under 10. When we were there I saw the below roller coaster.