College Basketball's Most Valuable Programs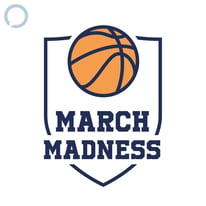 With the Final Four on the horizon, we at Zoe were interested to see just how influential the tournament can be on the valuation of the participating basketball programs. The annual study by Ryan Brewer, an assistant professor of finance at Indiana University-Purdue University Columbus, analyzes each program's revenues and expenses, with cash-flow adjustments and growth projections, to figure out the team's market value.
An interesting take out is that less successful teams in higher-profile conferences can generate more revenue. For example, Tennessee is worth $80million, whereas Villanova is only worth $51million, even though Villanova won the NCAA National Championship last year, and Tennessee has never appeared in a Final Four.
Of this year's Final Four contenders, Oregon is still far from a Top 50 contender, with a valuation of $33million as of last year. Gonzaga's and South Carolina's appearances could propel them into the Top 30 for the 2017 valuation (these programs are currently ranked at 39 and 34 respectively). And North Carolina's 20th appearance in the Final Four, should only solidify its standing as one of the country's most valuable basketball programs ($143million in 2016).
The concept of attaching a monetary value to something, is as useful in personal finance as it is in basketball. It's a simple way of assessing your current standing in order to set goals for where you want to be.
Do you know what your financial standing is? You probably have it in an excel spreadsheet somewhere that you filled out to get your mortgage. Having this clear picture is a great way to start the process of taking control of your personal finances. If you want to have a clear, real-time, holistic picture of your finances, sign up for a free financial assessment with our director of financial planning.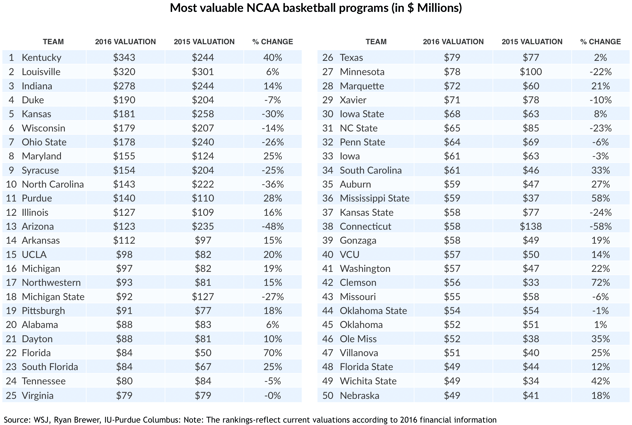 If you would like to browse other colleges, click here to see the Top 150 most valuable NCAA basketball programs.