US Household debt is nowhere near as high as it was in the last peak when you account for recent economic growth.
The mix of household debt is changing as student and auto loans become a bigger piece of the pie.
A hot auto loan market could be an early sign of an aging economic expansion.
After the NY Federal Reserve released their quarterly Household and Credit Report a few days back, a bunch of people have asked me if they should be worried by the fact that Americans' level of debt is back to what it was in 2008. After all, 2008 was pretty scary and household leverage was the root cause of the great recession back then. It also doesn't help that certain headlines read Household debt tops 2008 peak ahead of financial crisis.
Charts like this one below are also fairly scary.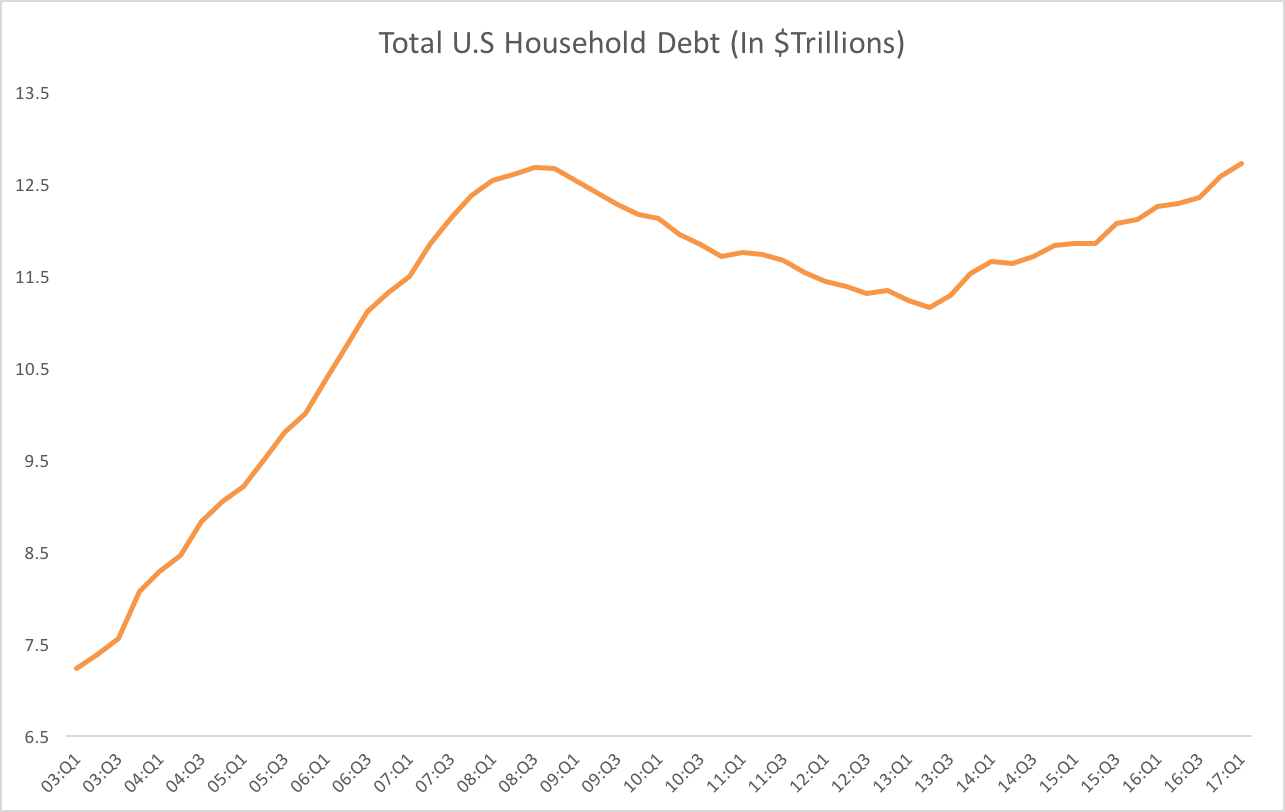 Source: New York Fed Consumer Credit Panel/Equifax
So should we be worried? Not at this stage. Yes, US household debt is back to 2008 levels. It actually grew by $50mln from the third quarter of 2008 to the first quarter of 2017. But (and this is a big but), during this same period the economy grew by $4.1 trillion. Let's compare those two growth spurts in a chart for the hell of it.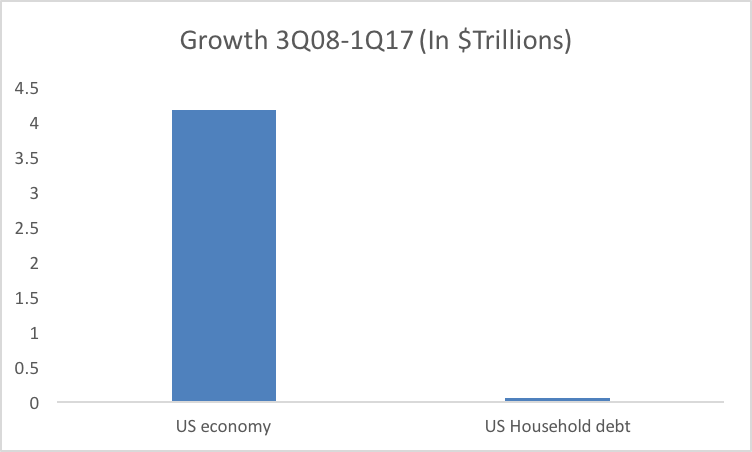 Source: New York Fed Consumer Credit Panel/Equifax
The growth of household debt in relation to the growth of the economy is a more important metric. Why? Because one should be concerned if debt is growing much faster than the overall economy. If debt is growing, but the economy is growing faster then it's not as big of a deal. Doesn't the below picture look drastically different to the first chart? It turns out that household debt relative to the size of our economy has been steady eddy for the last three years at pre "bubble" levels seen in the 2003-2004 period. Meaning debt has been growing just as fast as the overall economy the last few years.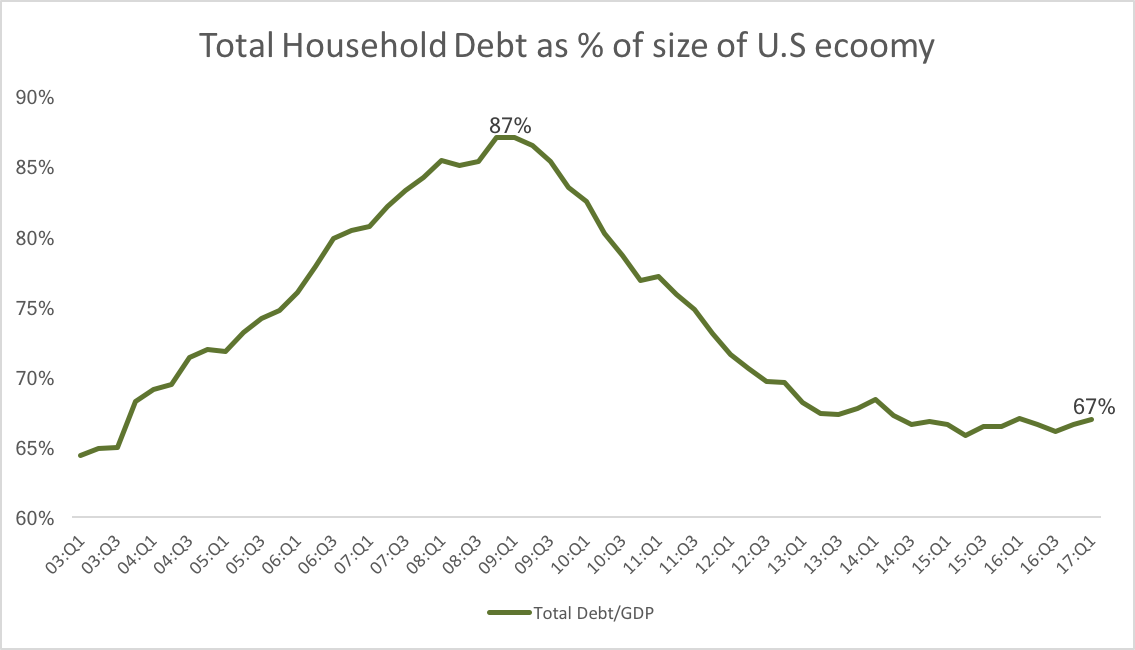 Source: New York Fed Consumer Credit Panel/Equifax
Does this mean that there is no story?
Not necessarily, but the main character shouldn't be the growth in total household debt. The more interesting finding from the Fed's work is the change in the mix of the household debt.
Let's start with the big cahuna, household mortgages. It is by far the biggest type of household debt in the US, accounting for 68% of all household debt. As we can see in the the chart below there is really nothing to write home about as it remains around the same levels as a percentage of the size of the economy we saw back prior to the credit bubble.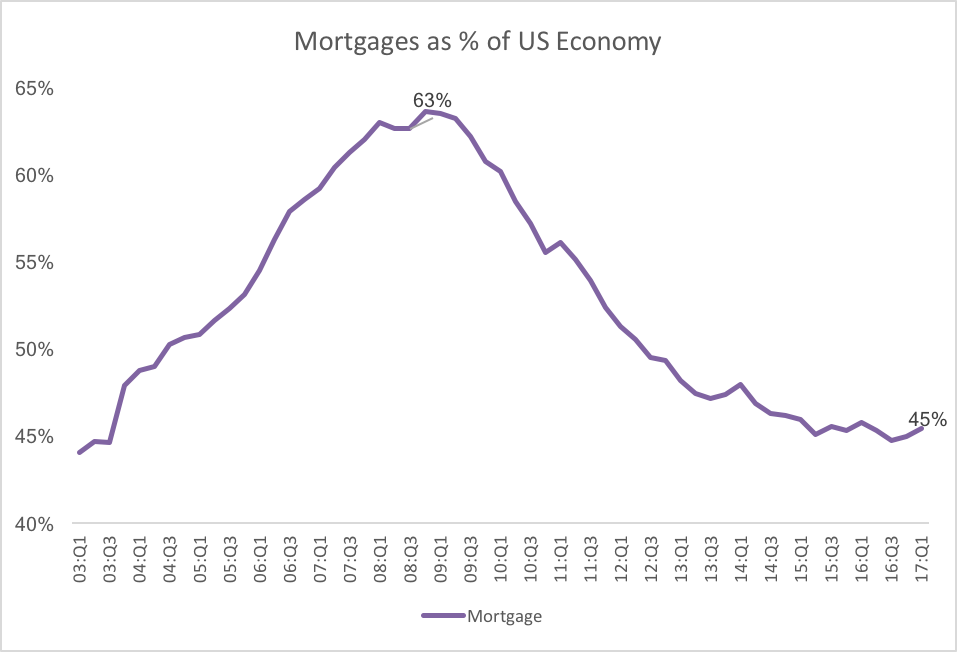 Source: New York Fed Consumer Credit Panel/Equifax
So at this stage we shouldn't be worried about household mortgage debt, but is there any type of household loan that does show concern? Absolutely! Check out the below chart: student and auto loans are becoming a bigger part of the overall mix.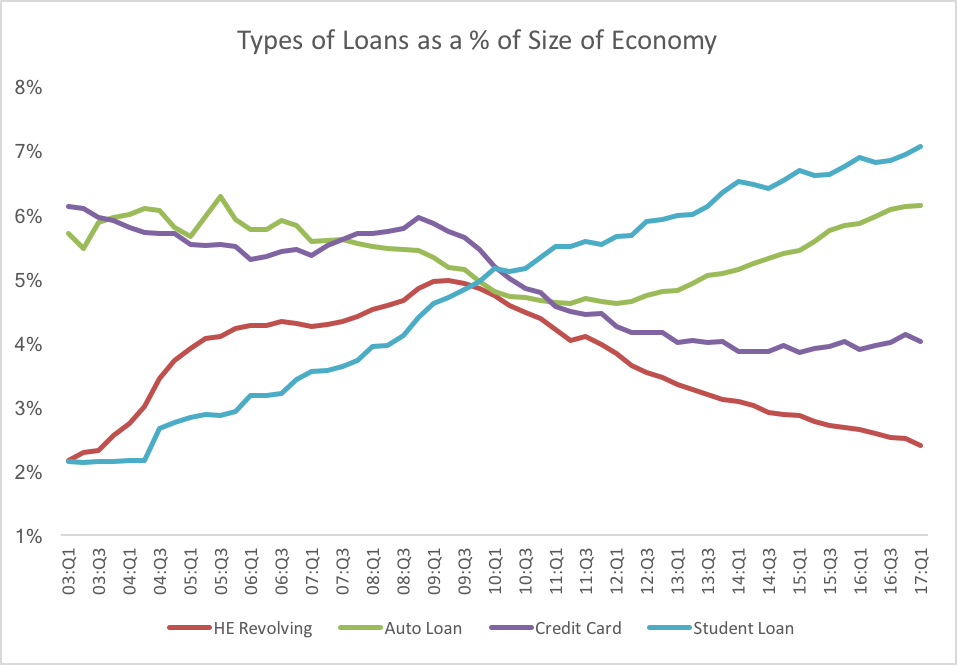 Source: New York Fed Consumer Credit Panel/Equifax
The hefty college price tag is definitely affecting the balance sheet of Americans, adding substantially to the debt that they are accumulating and a big reason why it's important for parents to start planning for their kids college education. It's also important to talk about what type of school you should be considering, which is what I discuss in "Is college worth it? Maybe not".
The fast growth in auto loans in the last couple of years has been well documented. As the below charts show, my concern here is two fold. Firstly, auto loans relative to people's disposable income is now at an all time high. This basically means that people are borrowing more towards cars relative to the size of their pay check. Secondly, some of the increase in auto lending has been to borrowers with very low credit scores (below 620.)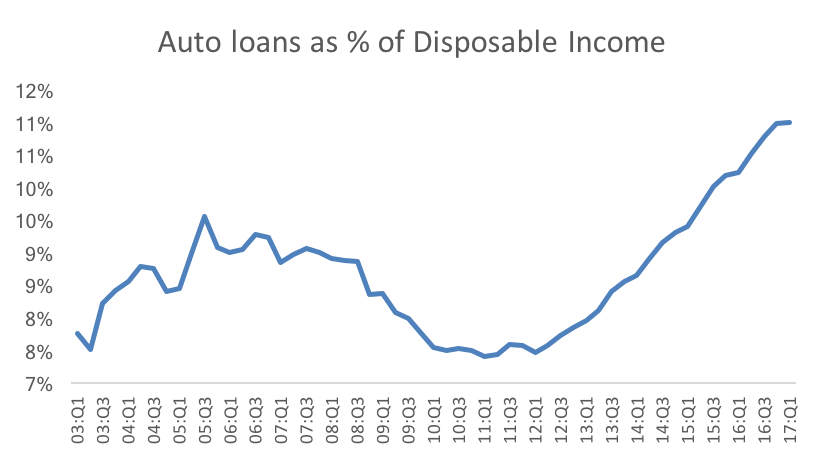 Source: Source: New York Fed Consumer Credit Panel/Equifax, Zoe Financial, Inc.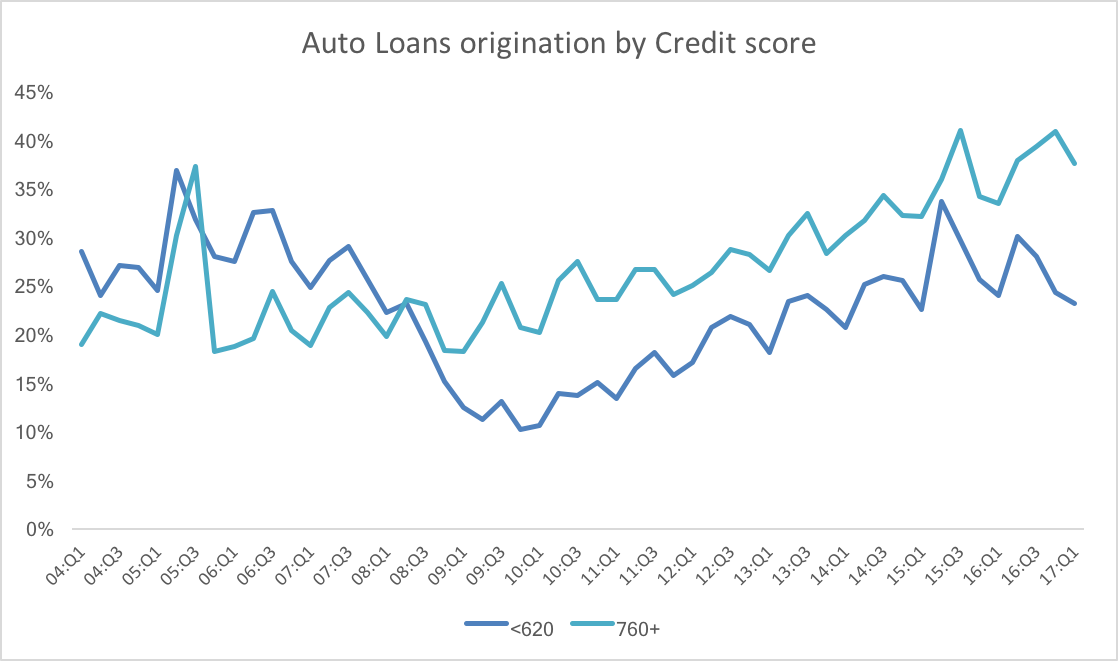 Source: New York Fed Consumer Credit Panel/Equifax
So the household debt mix has changed, but does this mean that we will see 2008 all over again in the near future? Hmmm unlikely. Auto loans currently account for 6% of total household debt, while mortgages (the culprit of all the trouble in 2008) accounted for 73% of total household debt in 2008. So their impact on the overall household debt is not as influential. Nonetheless, the hot auto loan market does tell us that the US economy is showing signs of being in the later stages of an economy expansion.
Main take-aways
The current level of household debt is not alarming. In fact, taking into consideration the growth of the economy over the last 9 years, the fact that we are back to 2008 levels for overall debt shouldn't be a surprise. What is interesting is that the mix of American's debt has changed from mostly their mortgage to now having to worry about student loans and car loans more than they use to. The over heating of the car loan market should not be ignored as it could be a sign that the US economic expansion is showing signs of aging, but it does not imply that another "2008" is upon us.